The Importance of Anchor Text in Back-links
Will you ever go to any random address without knowing who stays there or what will you find there? I don't think so because we need to have an idea about the place before actually going there.
Same applies to your website address. Before clicking on a link user must know where he will be taken to and what information he will find there.
Anchor text is the clickable and visible text in a hyperlink.
Link in Html looks like:

Above link will appear in content as – SEO Services
User will click on a link if he is interested in getting information about SEO Services. Now that you know the concept of anchor text, let's see some examples of good anchor texts and bad anchor texts.

As shown in above image, just by looking at the good anchor text we can get the idea of what information this link is offering. On the other hand, bad anchor text doesn't give any idea of where the user will be taken to.
Connection between Anchor Text and Ranking:
If you have a new website without any backlinks and you didn't submitted it to Google. Then how Google will be able to know about your website? If there are some links that are pointing to your website then only search engine spider will discover your site and index it. So Link building is the most important strategy to improve your ranking.
Anchor texts make it easy for search engines to understand the relevancy of your website. Optimized anchor text with proper use of keywords will improve website rank for those keywords and keyword phrases. The more you focus on optimized anchor text, the more your website will get visible in relevant search results.
Google Penguin Update:
Google uses different algorithms to assign rank to any website related to the search terms. Penguin algorithm is specifically designed for backlinks check up.  This algorithm checks backlink profile to determine spam link. Spam links are created to manipulate search engine results. To limit such black hat technique of spam links from getting easy top rankings, penguin algorithm is updated.
Previously for getting high rank for particular keywords, you could use exact match keywords. But now anchor texts are examined to find out the relevancy of the link with the keywords. Penguin penalizes your website if your backlinks are built with exact match anchor text and keyword rich optimization.  So use keywords wisely while assigning anchor text to your backlinks. You need to understand how to make effective use of anchor text but before that first go through the types of anchor texts.
Types of Anchor Texts:
Branded Anchor Text:
Branded anchors are anchors with use of brand name. It is a powerful type of anchor text that improves your brand recognition and visibility.
e.g. At IP Websoft, we provide all types of digital marketing services.
Exact Match Anchor Text:
These types of anchors include exact keywords that reflect the page it is linked to. Exact match anchor texts can gain you higher rank but it may also cause you a penalty.
e.g. At IP Websoft, we provide affordable SEO Services in India.
Here my target keyword is "SEO services" which is exactly matching with my anchor text so it is exact match anchor text.
Partial Match Anchor Text:
These are similar to using LSI keywords as anchor text. Variation of keywords in anchor texts is called as partial match anchor text. It is a good practice to use partial match anchor text as it is a natural way to link to any site.
e.g. At IP Websoft, we provide affordable social media marketing packages.
Here my target keyword is "Social Media Marketing" but I've used variation of focused keyword and used it naturally. This is a most recommended way to have anchor text for your backlinks.
Naked Link Anchors:
Naked link anchors are those where URL is used as anchor.
e.g. To get more information, visit http://ipwebsoft.com
Here anchor text and link are same. These types of anchors are defined as naked link anchors.
Generic Anchor Text:
In this type of anchor text, general words or phrases are used as anchors.
e.g. Click Here to get more information about SEO Services.
You can see more example of generic anchor text in previous image of bad anchor texts.
Image Anchors:
Whenever we use Image which is linked to other web page, search engine considers alt text of the image as anchor text. So it is very important to optimize images by specifying relevant alt texts.
e.g.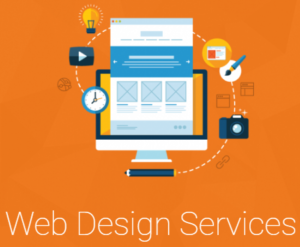 When you click on above image, you will be redirected to the web page that described web design services offered by IP Websoft. Search engine will consider its alt attribute to determine its anchor text.
How to make effective use of Anchor Text in SEO?
Concise and attractive anchor texts:
Making use of concise description to your web page is the best way to optimize your anchor text for SEO. Attractive anchor texts will encourage users to click on it.
Target Page Relevance:
Anchor text should reflect the information on the linked page. It should be relevant with the content on the targeted page. Consider the topic on the linked page and what information the page is offering and accordingly give anchor text to your backlink.
Keyword density:
If you are using so many exact match anchor texts for your backlinks then this will be considered as suspicious activity for getting higher rank. Too many keyword rich backlinks can harm your website rank because of search engine penalty.
Now that you are aware of the importance of anchor text in backlinks as well as in your overall SEO performance, you should optimize anchor text for better results. Using variations of keywords, LSI keywords in anchor text is the best way to rank for relevant keywords.
What do you think of anchor linking? Do you have any other strategy to make it more effective? If you have any questions or suggestions then do share your views in comments.
About us and this blog
We are a full service agency that deliver compelling digital marketing solution. Our winning solutions and experience helps to deliver great results across several key areas.
Every month we put together new guides, tips and e-books to help you drive more leads and increase revenue.
Sign-up for our newsletter to get new e-books by email:
Request a free quote
We offers professional SEO services that help websites increase organic search drastically and compete for 1st page rankings of highly competitive keywords.
Is your website secure? Have you ever thought of getting hackers attack…